Choose Your Custom ORHA Rental Form
---
Enter your local Discount Code & click "Apply Code" to buy ORHA forms at Member's price.
(Non-members can still purchase forms at the regular price)
To view a blank sample of a form, click "View Sample" on the item card. On mobile devices, click the sample thumbnail near the left edge of each listed item.
To begin editing a new form, just click on the card or the edit icon in the lower right corner.
On mobile devices, click any item name in the list.
When filling in the form fields, you must enter at least the required items, usually the Tenant Name and Property Address.
You can completely fill out the rest of the fields or leave them blank to write in after printing.
Further instructions for previewing and generating your completed form(s) can be found below each form's fill-in page.
---
---
*** IMPORTANT: Scheduled Website Maintenance – ORHA Online Forms Store ***
The ORHA Online Forms Store (www.store.oregonrentalhousing.com ) will be OFFLINE for scheduled website maintenance on Sunday, September 24th, 2023, from 12:00 AM – 6:00 AM. If you were planning on creating any new forms, PLEASE DO NOT WAIT.
QUESTIONS?? The ORHA Support Team will be back in office on Monday, September 25th, 2023 – If you have any questions or issues, please submit an ORHA Support Ticket at https://forms.office.com/r/LEfvp8izL1.
How Evictions Are Changing Under HB 2001 (2023)
Important Changes To Oregon Eviction Law
Overview:
Effective March 29, 2023, House Bill 2001 (2023) redefines the statutory meaning of non-payment, extends the time given in termination notices for non-payment (back to 10/13 days as they were during the pandemic protections), requires additional information and disclosures in non-payment notices and summons, and also extends the eviction timelines (so these cases are now going to take longer).
Read More...
FORM INFORMATION
UPDATES - We have new numbering and display order of our forms!
These changes correspond to the 2022-2023 ORHA Forms Manual. We hope you find these changes useful. For more information about this change or to access a cross reference between the old and new form numbers, please use the links below.
Read More...
Click here for more news and informational notices.
Packages and Downloads
Click below to download the blank questionnaire forms used for Screening Tenants' using prior employer and previous landlord answers.
New Tenant Move-In Packages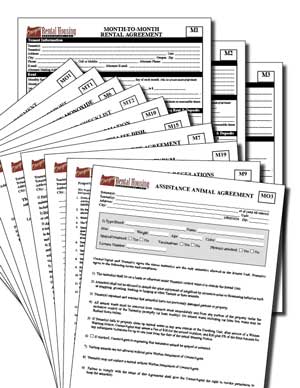 Are you spending too much time filling in the same information over and over again on all those forms when renting to a new Tenant?
Now you can save valuable time using our New Tenant Move-in Package assistant.
Instead of repeatedly typing, writing, or copying and pasting new tenant information into each required form, use the New Tenant Move-in Package assistant to automatically fill-in forms in your package.
Here's how it works:
Choose your Rental Agreement Form (Weekly, Month-to-Month or Lease).
Choose additional Agreements, Addenda and Disclosures as necessary or required by local or state law.
Click Next...
Your Rental Agreement is pre-filled with your previous entries.
(Or clear the form with a single-click and start fresh if you prefer.)
Preview and save your Rental Agreement using the "Next" button to fill in the remaining attachments.
The assistant will transfer information from the Rental Agreement to the remaining forms automatically.
You can add or change anything as needed along the way, previewing each attachment if desired.
After everything is reviewed, we'll wrap them all up in a single downloadable PDF.
Click an option below to display City-specific versions of forms as required by city code.
Store Layout:
Number

Form Name

Price

Member Price

S1PD

Portland Application To Rent - 12/2021

$6.99

$2.99

S1

Application To Rent Incl.
Screening Guidelines and
Info Release Auth - 01/2022

$6.99

$2.99

S1

Application To Rent Incl.
Screening Guidelines and
Info Release Auth - 01/2022

$6.99

$2.99

S2

Co-Signer Application - 12/2021

$7.99

$3.99

S3

Applicant Screening Charge Receipt - 07/2021

$7.99

$3.99

S4PD

Portland Application Screening Guidelines
Landlord Choice - 01/2022

$6.99

$2.99

S5PD

Portland Application Screening Guidelines
Low Barrier - 01/2022

$6.99

$2.99

S6

Application Verification - 01/2022

$7.99

$3.99

S7

Deposit to Hold Agreement - 12/2021

$7.99

$3.99

S8

Application Denial
and Adverse Action Letter - 12/2021

$7.99

$3.99

S8PD

Portland Application Denial
and Adverse Action Letter - 12/2021

$7.99

$3.99

S8

Application Denial
and Adverse Action Letter - 12/2021

$7.99

$3.99

M1

Month-to-Month
Rental Agreement - 04/2022

$8.99

$6.99

M2

Fixed-Term
Lease Agreement - 04/2022

$8.99

$6.99

M3

Week-to-Week
Rental Agreement - 04/2022

$8.99

$6.99

M4

Co-Signer Agreement - 12/2021

$7.99

$3.99

M5

Lead-Based Paint Disclosure - 11/2016

$7.99

$3.99

M6

Smoke and Carbon Monoxide
Alarm Agreement - 12/2021

$7.99

$3.99

M7

Smoke/Vape-Free Agreement - 12/2021

$7.99

$3.99

M8

Mold Prevention Agreement - 04/2016

$7.99

$3.99

M9

Rules & Regulations - 12/2018

$7.99

$3.99

M10

Emergency Information - 06/2016

$7.99

$3.99

M11

Exterior Property Care Agreement - 12/2018

$7.99

$3.99

M12

$7.99

$3.99

M13

Weatherization Agreement - 03/2022

$7.99

$3.99

MT1

Unit Condition Report - 04/2016

$7.99

$3.99

MT1PD

Portland Unit Inventory Addendum- 07/2022

$7.99

$3.99

MT2

Deposit Refund Checklist - 12/2021

$7.99

$3.99

MO1

$7.99

$3.99

MO2

Reasonable Accommodation
Request and Verification - 03/2022

$7.99

$3.99

MO3

Assistance Animal Agreement - 12/2021

$7.99

$3.99

MO4

Air Conditioner Notification - 06/2022

$7.99

$3.99

MO5

Annual Recycling Notice - 12/2018

$7.99

$3.99

MO6EU

Landlord Exemption Notification for
City Of Eugene Relocation
Assistance - 08/2023

$7.99

$3.99

M14

Parking Agreement - 12/2021

$7.99

$3.99

M15

Cable, Satellite Dish,
Security System Agreement- 12/2018

$7.99

$3.99

M16

Fireplace, Pellet Stove,
Wood Stove Agreement - 12/2018

$7.99

$3.99

M17

Septic Agreement - 12/2018

$7.99

$3.99

M18

$7.99

$3.99

M19

$7.99

$3.99

M20

Marijuana Agreement - 12/2021

$7.99

$3.99

M21

Medical Marijuana Agreement - 12/2021

$7.99

$3.99

O1

Notice of Rent Increase - 02/2022

$7.99

$3.99

O1PD

Portland Notice of Rent Increase - 09/2022

$7.99

$3.99

O1

Notice of Rent Increase - 02/2022

$7.99

$3.99

O2

Notice of Rent Increase
Week-to-Week Tenancy - 12/2021

$7.99

$3.99

O3

Notice of Lease Renewal - 02/2022

$7.99

$3.99

O4

24-Hour Notice to Enter - 12/2021

$7.99

$3.99

O5

Notice of Emergency Entry - 04/2016

$7.99

$3.99

O6

Notice of Change in Terms - 02/2022

$7.99

$3.99

O7

Temporary Occupant Agreement - 03/2022

$7.99

$3.99

O8

Add or Release Tenant
Rental Agreement Addendum - 01/2022

$7.99

$3.99

O9

Maintenance Request - 04/2016

$7.99

$3.99

O10

Tenant Information Update - 04/2022

$7.99

$3.99

O11

Notice of Foreclosure/Default - 01/2022

$7.99

$3.99

O12

Guest Registration - 4/2016

$7.99

$3.99

O13

Entrance Agreement
for Property Showing - 12/2021

$7.99

$3.99

O14

Notice of Security Deposit Increase - 09/2022

$7.99

$3.99

MO1

$7.99

$3.99

MO2

Reasonable Accommodation
Request and Verification - 07/2021

$7.99

$3.99

MO3

Assistance Animal Agreement - 12/2021

$7.99

$3.99

MO4

Air Conditioner Notification - 04/2022

$7.99

$3.99

MO5

Annual Recycling Notice - 12/2018

$7.99

$3.99

MO6EU

Landlord Exemption Notification for
City Of Eugene Relocation
Assistance - 08/2023

$7.99

$3.99

VT1a

13-Day Notice to Pay or Vacate
for Nonpayment of Rent - 04/2023

$7.99

$3.99

VT2a

10-Day Notice to Pay or Vacate
for Nonpayment of Rent - 03/2022

$7.99

$3.99

VT3

72--Hour Notice to Pay or Vacate
for Nonpayment of Rent
Week-to-Week Tenancies - 03/2022

$7.99

$3.99

VT4

Unauthorized Pet Tenancy
Termination Notice - 03/2022

$7.99

$3.99

VT5

Notice of Termination
With Cause - 03/2022

$7.99

$3.99

VT6

Notice of Termination
With Cause
Week-to-Week Tenancy - 05/2023

$7.99

$3.99

V1

Notice of Noncompliance - 01/2022

$7.99

$3.99

V2

Parking Violation - 05/2019

$7.99

$3.99

V3

Past Due Rent Reminder - 10/2021

$7.99

$3.99

V4

One-Time Late Payment
Agreement - 04/2016

$7.99

$3.99

V5

One-Time Partial Payment
Agreement - 04/2016

$7.99

$3.99

V6

Actual Damages Invoice - 04/2016

$7.99

$3.99

VT1a

13-Day Notice to Pay or Vacate
for Nonpayment of Rent - 04/2023

$7.99

$3.99

VT2a

10-Day Notice to Pay or Vacate
for Nonpayment of Rent - 03/2022

$7.99

$3.99

VT3

72-Hour Notice to Pay or Vacate
for Nonpayment of Rent
Week-to-Week Tenancy - 03/2022

$7.99

$3.99

VT4

Unauthorized Pet Tenancy
Termination Notice - 03/2022

$7.99

$3.99

VT5

Notice of Termination With Cause - 03/2022

$7.99

$3.99

VT6

Notice of Termination
With Cause
Week-to-Week Tenancy - 05/2023

$7.99

$3.99

T1

Repeat Violation
Termination Notice - 06/2019

$7.99

$3.99

T2

24-Hour Notice
for Harm or Substantial Damage - 09/2022

$7.99

$3.99

T3

24-Hour Notice for
Unlawful Occupant - 06/2019

$7.99

$3.99

T4

Notice of Termination
Without Stated Cause
First Year of Occupancy - 05/2022

$7.99

$3.99

T4PD

Portland Notice of Termination
Without Stated Cause
First Year of Occupancy - 09/2021

$7.99

$3.99

T4

Notice of Termination
Without Stated Cause
First Year of Occupancy - 05/2022

$7.99

$3.99

T5

Notice of Termination
Qualifying Landlord Reason - 12/2021

$7.99

$3.99

T5PD

Portland Notice of Termination
Qualifying Landlord Reason - 12/2021

$7.99

$3.99

T5

Notice of Termination
Qualifying Landlord Reason - 12/2021

$7.99

$3.99

T6

Notice of Nonrenewal of Lease - 12/2021

$7.99

$3.99

T6

Notice of Nonrenewal of Lease - 12/2021

$7.99

$3.99

T6PD

Portland Notice of Nonrenewal of Lease - 01/2022

$7.99

$3.99

T7

Notice of Termination
Two-Unit/Owner-Occupied Property - 12/2021

$7.99

$3.99

T8

Notice of Termination
Week-to-Week Tenancy - 09/2021

$7.99

$3.99

T9

Mutual Termination Agreement
Complete Release of All Claims - 02/2022

$7.99

$3.99

T10

Notice of Termination
From Tenant - 12/2021

$7.99

$3.99

T11

Notice of Termination
from Tenant
Week-to-Week Tenancy - 12/2021

$7.99

$3.99

T12

Confirmation of Tenant's
Notice To Terminate - 01/2022

$7.99

$3.99

T13

Abandoned Property Notice - 12/2021

$7.99

$3.99

T14

Abandoned Property Notice
Deceased Sole Tenant - 12/2021

$7.99

$3.99

T15

Deposit Accounting - 12/2021

$7.99

$3.99

T15PD

Portland Deposit Accounting - 12/2021

$7.99

$3.99

T16

Accounting Letter - 10/2021

$7.99

$3.99

T17

Promissory Note
Installment Agreement - 01/2022

$7.99

$3.99

MT1

Unit Condition Report- 04/2016

$7.99

$3.99

MT1PD

Portland
Unit Inventory
and Addendum - 08/2022

$7.99

$3.99

MT2

Deposit Refund Checklist - 4/2016

$7.99

$3.99